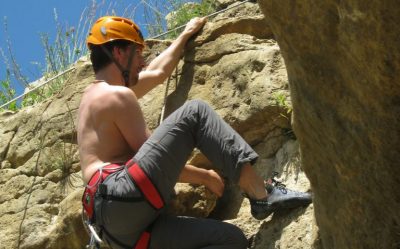 Unique Sport Climbing Location
Cherokee Bluffs is the only sport climbing area in central Alabama. There are a lot of potential climbing spots here. Routes are still being developed to make this crag a better climbing destination for central and lower Alabama.
Access to the climbing routes is a short hike from the parking lot. Hike the John B. Scott trail south for approx. 800 feet until you come to a post with a climbers logo on it next to wooden steps on your right. Follow the steps up and you are now below route #7 Roof-a-lufagus, currently left side of the cliff line. The rest of the cliff line is on the trail to the right.
When you leave please double back to the wooden steps/trail.
Please Stay On Trail to Avoid Erosion and Please clean up after yourself. Whatever you take in, be sure to take back out. Please sign the register at the kiosk and write a large C next to your name if you are a climber. Forever Wild would like to know who is coming to enjoy this awesome spot.
Climb At Your Own Risk!