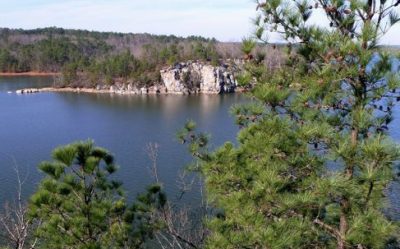 The Deadening Alpine Trail
The Deadening Alpine Trail is a 4.2 mile loop trail that is more challenging than the other trails created by CRATA, but also more rewarding. You can take the crossover route and hike only 3.1 miles. There is also an emergency trail to the parking lot at this location.
The cliffs of the Tallapoosa River, the Needles Eye, and Jasmine Bluff are just a few of the unique rock formations that await the hiker. Spectacular vistas of Lake Martin, thickets of mountain laurel and rhododendron will delight the hiker in late April and early May.
WARNING: We do not recommend children under 12 years of age hike this trail. We also recommend that children ages 12 to 14 years have strict adult supervision. There are cliffs and bluffs without safety barriers within 10 to 20 feet of the trail. A fall from these heights could result in critical injury or death. The trail is relatively safe as long as you stay on marked trail, but hiking by its very nature carries a certain amount of risk. The land owner or trail association is not responsible for any injury, accident, or adverse health event while on these premises or as a result thereof. Hike safely.
NOTICE: Stay on marked trails; any pets must be on leash at all times. No motorized vehicles, bicycles, horses or other pack animals allowed on trail. No alcohol, drugs, firearms, open fires, camping, rock climbing or repelling allowed.
The directions to the Deadening Alpine Trail is Alabama State Highway 50 in Tallapoosa County which runs east and west.
From the east going west, take Overlook Drive (turn right, County Road 99) for approximately 3 miles, turn right into the Harbor subdivision. Trailhead is 600-feet on left at 354 Harbor View Boulevard.
From the west going east, cross the Tallapoosa River (the Jack Venable Bridge), take first left, Overlook Drive (County Road 99) for 3 miles. Turn left into Harbor subdivision. Trailhead is 600-feet on left at 354 Harbor View Boulevard.
Area Map With Trail Tracks
Please help us keep our trails litter free and beautiful! Take your trash with you.