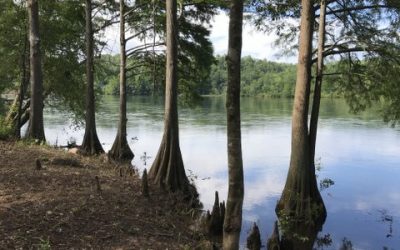 Trails at Yates Lake Forever Wild WMA
Beautiful Historic Trails On Old Forest Lands
Dedication John B. Scott Trail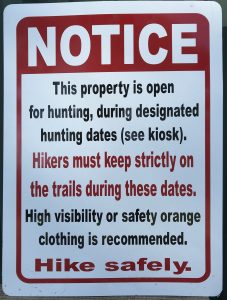 Click here for more information on hunting at this property.
There are two primary hiking trails on this 6000 acre wildlife management area owned by the State of Alabama Forever Wild land preservation program. (Click here to visit Forever Wild website.) CRATA worked in partnership with Forever Wild and the State Lands Division of the Alabama Department of Conservation to build this network of hiking trails on public lands. With two major trails intersecting one another, the combination of hikes and distances at Yates are numerous!
John B. Scott Forever Wild Trail
*Note* – Temporary mud problem on the beginning section of the John Scott trail! Click here for details.
The John B. Scott trail is 4.7 miles that weaves along the Tallapoosa River through old growth hardwoods and along several creeks. It crosses and briefly follows the old Double Bridges Ferry Road, now reclaimed by nature. This trail is easy to moderate in its difficulty and will immerse you in nature with woods, water and wildlife as it winds through the forest. The trail is named for a pioneer in Alabama conservation and a key figure in the legislation creating the Alabama Forever Wild program.
As you walk along the shoreline of Yates Lake and the Tallapoosa River, be prepared to witness Bald Eagles fishing or geese gliding in for a landing . You will not find in Alabama an area more rich in wildlife abundance and diversity!
Cherokee Bluffs Dam Railroad Trail
The Cherokee Bluffs Dam Railroad trail follows the old railroad bed that was built in the early 1920's and used in the construction of Martin Dam. You can follow either the Highline or Lowline railroads and proceed to the highest point in Elmore County: Saddle Rock Mountain. As you hike this historic trail, you will see remnants of the old railroad such as ruts where cross-ties once lay, or small piles of coal once used to fire up the steam locomotives. You can even see foundations that once supported bridges across gorges and creeks. All of this in a pristine, old forest setting will bring you back to hike this trail time and time again!
The Lowline railroad trail is currently a 2.7 mile out and back hike for a total of 5.4 miles. For now it ends at the Channahatchee Creek where there is currently no dry crossing. A project to add new trails and connect the current trails on the Yates Forever Wild property is underway. Once Phase 1 of the new project has been completed, the Dam Railroad Trail will be connected to a new trail that will run along the creek and terminate at a new parking lot on Goldmine Road, More to come soon on the new trails and parking lot.
Area Map With Trail Tracks
For printable PDF map click here. To download a KMZ file for this map click here.