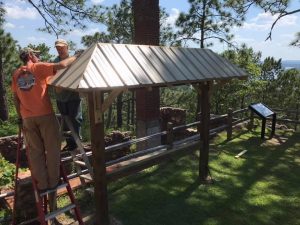 CRATA recently had a workday at Smith Mountain to put up the kiosk that will house the recognition plaques for Tower Restoration Donors and Exhibit Donors. We are so thankful for all who have contributed to our efforts in so many ways. The kiosk top was built by Mike Kane and Lindsay Taylor Kane.
Workers for this day included Jimmy Lanier, Harold Banks, Jerry Bynum, Cheryl Bynum, Fred Worsham IV and John Prophitt. Also a couple of unlucky hikers that happened by just when muscle was needed to hoist the top up onto the posts.
Thanks to all for a very productive day at Smith Mountain!