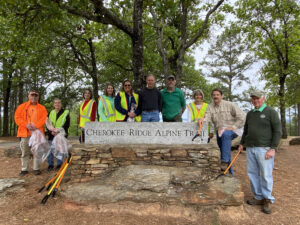 Participants from left to right: Mike Wilson, Mary Montoya, Lauren Little, Cam Martin, Michele Merrett, Bill Garnett, Walt Hutcheson, Julia Thomas, Steve Thomas, and Jimmy Lanier
Saturday, April 17, 2021 – CRATA board members and Friends of CRATA volunteers recently participated in a county wide trash pickup drive on a beautiful Saturday in Tallapoosa County. CRATA joined the trash drive that was sponsored by the Lake Martin Tourism Association. Since two of our trailheads are on or just off of Overlook Drive, we volunteered to pickup trash on the 4 mile length of this road.
A big thank you to all of the participants and to Brandy Hastings for coordinating the event. It was an enjoyable morning and very enjoyable fellowship with our CRATA supporters and volunteers! If you would like to volunteer for future projects and have not already filled out a volunteer form, please do complete a volunteer form, accessible near the bottom of the Home Page of this website.