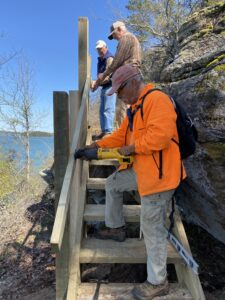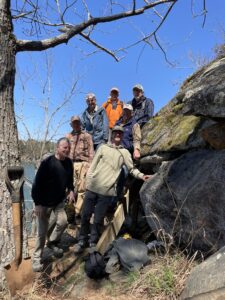 Saturday, March 20, 2021 – A CRATA volunteer work crew spent a beautiful Saturday on the Jim Scott Deadening Trail replacing a set of worn out stairs. As some of you know, this trail is the most rugged and difficult trail in the CRATA trail system. This particular set of stairs is located on the side of a cliff overlooking Lake Martin. The location is difficult to get to and posed quite a challenge to get new building materials and tools to the worksite! Our volunteers hand carried boards, posts, beams and tools through dense woods and down a steep embankment, to get to the worksite, While some volunteers disassembled the old stairs and constructed the new set, others brought in the new lumber and hauled the old lumber back to the trucks.
The new stairs are now complete, except for a few finishing touches, and ready for trail traffic. Another set of stairs on this trail is scheduled to be replaced this month also. Materials for that project will have to be brought in by boat. CRATA is steadily working to replace aging structures, such as these stairs, to make sure our trails are safe and enjoyable for the public.
Volunteers on this project were Jimmy Lanier, Mike Wilson, Walt Hutcheson, Matt Campbell, Bill Garnett, Marie Kyser, Randall McClendon, Dana McClendon, Steve Thomas, Harold Banks, Clay Humphries, Don LeFever, Roger Wolczek and Tucker Ellis.
On the construction crew shown in the bottom photo are Don LeFever, Tucker Ellis, Jimmy Lanier, Clay Humphries, Roger Wolczek, Mike Wilson and Walt Hutcheson.